24/09/21 12:05
Love These Top 5 Tips To Safely Transport Your Pets
There is a lot of conflicting information out there about transporting animals. The law: an animal must be suitably restrained when being transported. Which leads to A LOT of interpretation.
This list is not only the legal way, the safe way, but the way which puts the animals well being first. The way in which you transport an animal depends on certain factors too. Like if you are alone in the vehicle with the animal.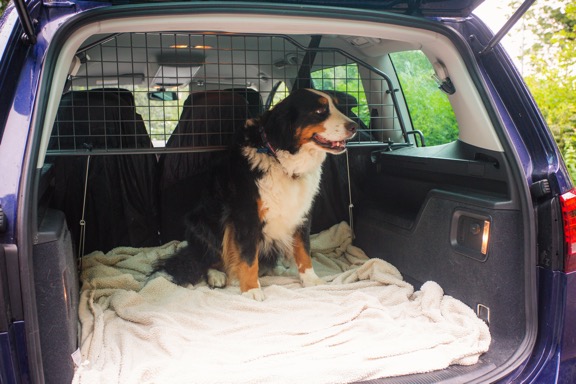 Your Dog Will Love These Tips For Safe Transport
A big dog (Great Dane/German Sheppard size) in a big boot with a dog guard. The safest way when transporting on your own. You can use an additional seat belt if you feel the dog will jump out and run off when you open the boot. You want to make sure you are using a crash tested dog guard. Travall will have one specific to your vehicle/. https://www.travall.co.uk/dog-guard
A medium sized dog (Collie/Labrador size), in the same way if they are on the larger side. If they are on the smaller side a crash tested crate, K9 have a big selection. https://www.transk9.com/
If you have a small or very small dog (Cavalier/chihuahua) assuming you are alone then I would still go for a crate. You can get smaller ones or double sided ones, which also allows space to store any shopping etc in your boot. For all 3 of these options you can buy mirrors which allows you to observe your dog whilst they are in the back section
Travelling with a dog inside the car; if you are going to travel in a car with a dog then you do want to give your dog the best chance whilst them being safe and comfortable. Look for a seat belt harness which is crash tested. There are some on the market that are quite expensive (about £100) but you get what you pay for. These are a harness with a loop attachment that the seatbelt goes through. You should never attach a seatbelt to a dogs collar. In the event of an accident they could be seriously injured if not killed with the impact on their neck. A harness distributes a dogs weight more evenly.
Think also about the size of the dog and position they are sitting. REMEMBER it can invalidate your insurance if you have a dog in the front seat of your car. And think of the damage the airbag will do if it goes off with your beloved pet in the front seat! Your dog whilst in their seat belt, needs to be secure in their seat. So if you were to suddenly brake they are not going to be projected forward into the seat in front. This would cause further damage to themselves or the person sitting in the front seat. If you are alone, put the dog behind the passenger seat.
How To Care For Your Cat With These Transport Tips
Cats: the safest way to transport a cat is behind the driver or passenger seat on the floor. Never put a cat in a basket on the seat, even with the seatbelt on. The kinds of baskets sold are not crash tested, in the event of a crash the seatbelt will destroy the basket and the cat will be a projectile headed for the seat in front. Or if you've put the cat in the front passenger seat and the airbag goes off, I'm no vet but I bet its bye bye kitty!
This is just an overview of how to transport pets safely. I could go further into this subject as an expert in my field. I'm sad to say there are plenty of opportunists out there looking to make money from transporting pets. Whether you are transporting your pet yourself or asking a professional company to do it for you. Always make sure they are transporting with your pets best interests as their main objective.

Another top tip is to get your pet used to travelling. There are ways to reduce your pets stress whether it's a cat or a dog, but we'll save that for another top tips article.


About The Author
This is a guest post by Claire Harris, the country's leading expert on pet transport.

Claire Harris founder of Pets 2 Places, the UK's first pet taxi franchise is the country's leading expert on pet transport. Starting the service in her home town of Milton Keynes.

Claire Harris age 43 started Pets 2 Places in 2014, helping take pets and their owners to the vets, groomers and kennels, or anywhere else they need to go, even on holiday.

Claire has achieved many accolades such as Women Leader of the year for starting her own company despite many challenges. Was invited to the House of Lords to celebrate on National Women's Day for her contribution not just her community through her work, but her involvement in charity work.

Claire has gained many awards for Pets 2 Places including Best Pet Business of the Year 2019,and finalist at the Encouraging Women Into Franchising (EWIF) awards sponsored by Natwest.