how to become an……Equine Massage Therapist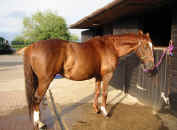 Do You Want To Work With Horses As An Equine Massage Therapist (in the UK)?
This page has been compiled to answer some of the most common questions to help you do this. If you've any further queries please email info@taranet.co.uk and I'll try to help, or please contact the organisations mentioned.
Are qualifications needed?
Strictly speaking no. But there are professional training courses in Equine Massage that you can take which lead to recognised qualifications.
Remember - It is an offence for any person, other than the owner of the animal, to treat an animal unless the permission of the vet in charge of the case or to whom the animal would be referred is sought and obtained. A Veterinary Surgeon is extremely unlikely to refer any customers to you unless you are fully qualified and insured
.
What qualifications can I get & how do I get them?
There's several equine massage courses that you can complete. Here's a selection of some popular courses.
1. Animal Therapy Solutions

This training centre owned by experienced veterinary physiotherapist Helen Tompkins offers both certificate and foundation courses in Equine Sports Massage.


Entry Requirements:

Age 21 at commencement of course
5 passes (A-C) at GCSE including English
3 years experience of working in professional equine yards, supported by references
A human massage qualification meeting ESMA's standards.
Why choose these courses?
By completing the
Animal Therapy Solutions
Certificate in Equine Sports Massage you're eligible to join the Equine Sports Massage Association (ESMA). The ESMA was established to help ensure that customers receive services from a fully trained and qualified equine masseur. So completing these courses and becoming a member of the ESMA will help provide reassurance to your customers of your expertise and experience. Find out more at the ESMA website (link below).
2. Equine Sports Massage Diploma
2.1 The Institute of Complementary Animal Therapies (ICAT) offer a range of courses, including if you want to work with animals on a professional basis. The Equine Sports Massage Diploma course is accredited with the Association of Complementary Animal Therapies.
Entry Requirements:
Students must be over 18 years of age
Equine students hold the BHS Stage 2 Certificate, Horse Owners Certificate, Pony Club B or have at least three years experience in the horse industry - preferably at a professional yard or at competition level.
Students under 21 years should hold 4 GCSE passes (one in English) or provide proof of an equivalent educational standard.
Find more information by visiting the ICAT's website at:
http://www.theicat.co.uk/
2.2 Equi-Therapy also offer an Equine Sports Massage Diploma, as well as a course leading to a certificate. This five-day intensive course is for Post-Graduates and open to qualified Massage Therapists, Physiotherapists, Chiropractors and Osteopaths, BHS Stage holders up to & including Stage IV & Degree holders in Equine or Human Sports Science (other relevant qualifications may be considered).
It's taught uniquely on a one-to-one basis followed by in-depth case studies for three to six months. Students are required to have a good knowledge and experience of various equine disciplines and to demonstrate dedication to succeed; you'll also need to be physically fit in order to undertake the various techniques taught during the course
Find more information by visiting Equi-Therapy's website at
http://www.equi-therapyuk.com/
2.3 Wolds Equine Rehabilitation & Training offer an approved Equine Sports & Rehabilitation practitioner qualification. This centre combines online learning with practical sessions, based in Lincolnshire, UK. Get more information at their website
https://www.equinemassagecareers.co.uk/
3.Other training courses
There's also other professional courses available in Equine Sports Massage. In selecting your course, it's important to check if it's accredited (and by whom), with there being many professionals working within the equine industry, completing a thorough course, and being able to be a member of a professional association is important to help give your service the best chance of success!
What difference do qualifications make to a customer?
Successful completion of a recognised Equine Massage course, means that you're suitably qualified to practise. In addition you're only likely to obtain insurance cover if you're a qualified therapist. This will be important to your customers.
Plus Veterinary Surgeons will only refer customers to you if you are fully qualified.
Remember - It is an offence for any person, other than the owner of the animal, to treat an animal unless the permission of the vet in charge of the case or to whom the animal would be referred is sought and obtained.

A fully qualified Equine Massage Therapist will always work within the permission of and liaise with the Veterinary Surgeon of the animal.
Would you like to just learn some massage techniques to use on your own horse?


There's many workshops and short courses held each year across the world - many professional training centres offer courses for horse-owners. If you'd like help finding a short course, please email us at info @ taranet .co. uk - I'm happy to help!
Contact Links:
Animal Therapy Solutions
Equine Sports Massage Association
Equi-therapy
ICAT
- email info@theicat.co.uk
Association of Complementary Animal Therapies
- email info@theacat.co.uk
International Association of Animal Massage Therapists
- email info@iaamt.com
Wolds Equine Rehabilitation and Training
Get training advice tips for other popular complementary therapies for animals as follows: